History of McDonald's
McDonald's (or McDonald's Corporation) is today's largest chain of fast food restaurants in the world. They serve hamburgers, cheeseburgers, chicken, french fries, soft drinks, milkshakes, and other desserts.
The first Mc Donald's restaurant was opened by brothers Richard and Maurice McDonald. Their father held a food stand in Monrovia, California called "The Airdrome", where he sold cheap hamburgers and orange juice. In 1940, brothers moved the restaurant to San Bernardino, California and called it "McDonald's Bar-B-Q" where they sold mostly barbeque. When they realized that most of their profits came from hamburgers they streamlined the making of hamburgers and started selling a smaller menu with just hamburgers, cheeseburgers, french fries, shakes, soft drinks, and apple pie. They also shortened their name to "McDonald's," and reopened on December 12, 1948. In 1952 they started franchising. In 1954, Ray Kroc bought a franchise and from then McDonald's starts its expansion. By 1958, McDonald's Corporation had 34 restaurants and by 1959 - 102. Ray Kroc bought out McDonald brothers in 1961. In 1962, McDonald's got its, today's famous, Golden Arches logo and Ronald McDonald, a red-haired clown, appeared in 1963. McDonald's had skillful marketing and was very fast in responding to customer demands. They experimented with new types of hamburgers constantly and some of the worked while other didn't. Hamburger with slice of pineapple and a slice of cheese, a "hulaburger", - flopped while Big Mac (which appeared in 1968) became popular immediately and is popular even today.
In the late 1970's began "Burger Wars". Other fast food chains, like Burger King and Wendy's, began spreading seeing their place in the market. They all maintained aggressive advertising campaigns and low prices to try and stay competitive but McDonald's survived. They introduced McChicken, a chicken sandwich, in 1980 and Chicken McNuggets (after McChicken flopped) in 1983. Experts of that time thought that fast-food industry was saturated but McDonald's continued its growth. They opened their 10,000th restaurant in April 1988. By the beginning of the '90s they had more than 3,600 outlets in 58 countries not counting those in United States (where they had some 9,000). But 1990s brought difficulties. Too many experiments flopped and advertising campaigns failed. McDonald's had so many outlets that new started taking costumers from the old ones. Because of all that expansion in United States slowed down but McDonald's managed to get out of the problem by introducing popular toys with meals (Teenie Beanie Babies and toys from Disney and Pixar movies). In 1998, company had the first decrease in net income since the 1965 when it went public and resulted in job cuts.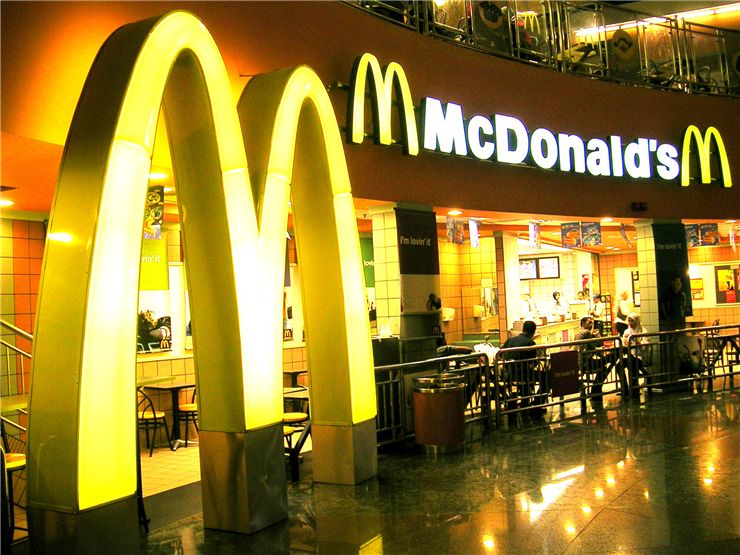 Beginning of 2000s brought more job cuts along with lawsuits and accusations of selling unhealthy food. McDonald's restaurants were attacked around the world as symbols of globalization. Because of all of that McDonald's concentrated on improving the image and started selling more healthy food. Today, McDonald's is present in 119 countries where it has more than 35,000 restaurants and where more than 68 million customers are served daily.