Timeline of Fast Food
Fast food and the need for cheap prepared food are much older than we probably think. Here is the chronology of important points in history of fast food.
Ancient - Ancient Roman cities had street vendors and taverns that sold bread soaked in wine, cooked vegetables and stews.
Middle Ages - Towns from Middle Ages also had street vendors that sold pies, pasties, flans, waffles, wafers, pancakes and cooked meats to the poor other others that had no means to prepare food for themselves.
1860 : the first "fish and chips" shop opened in at Tommyfield Market in Oldham, England.
1896 : Max Sielaff in Berlin invented "automats", a type of vending machine restaurants which served simple foods and drinks.
1902 : Joseph Horn and James Hardart opened an automat in New York City, bringing fast food to United States.
1916 : Nathan Handwerker, a Polish shoemaker, opened a hot dog stand on Coney Island, New York - a beginning of Nathan's Famous, Inc.
1921 : White Castle opens the first fast food hamburger stand in Wichita, Kansas - a beginning of their chain.
1937 : Vernon Rudolph launched Krispy Kreme Doughnuts, doughnut company and coffeehouse chain, in Winston-Salem, North Carolina.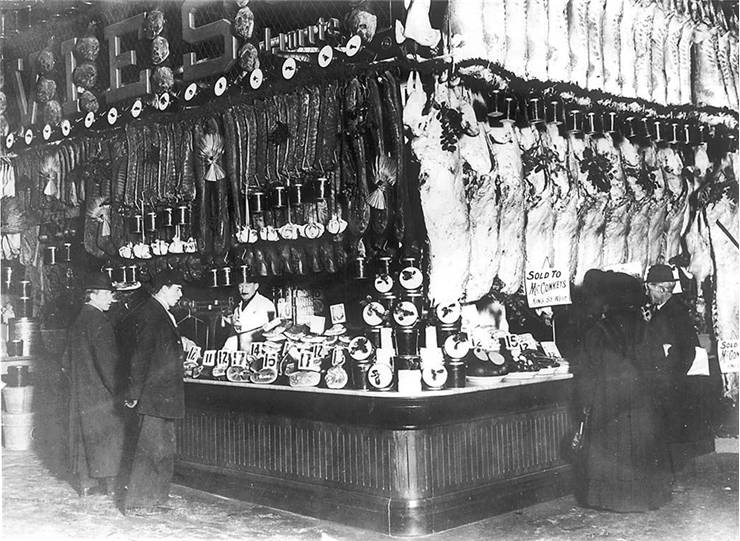 1948 : Brothers Richard and Maurice McDonald created an efficient assembly line to make hamburgers and French fries, so called "Speedee Service System" and incorporated it in their restaurants that they called McDonald's.
1950 : Bill Rosenberg of Quincy, Massachusetts opened his doughnut shop as Dunkin' Donuts.
1952 : Harlan Sanders sold his first Kentucky Fried Chicken franchise.
1953 : McDonald's starts franchising.
1955 : Dunkin' Donuts starts franchising.
1954 : James McLamore and David R. Edgerton Jr. opened their first Insta-Burger-King restaurant in Miami, Florida which will later become Burger King.
1961 : John Galardi starts with one Wienerschnitzel hot dog stand in Newport Beach, California to become the largest hot dog chain in the United States with more than 360 outlets.
1961 : Ray Kroc buys out the McDonald brothers' hamburger franchise company and starts expansion of McDonald's.
1961 : Brothers Tom and James Monaghan bought "Dominick's pizza store" in Ypsilanti, Michigan.
1964 : Harland Sanders sold his Kentucky Fried Chicken franchise business to John Y. Brown and Jack Massey but remains a spokesman for the company.
1964 : Brothers Forrest and Leroy Raffell opened the first Arby's in Boardman, Ohio.
1965 : Tom Monaghan renames the "Dominick's pizza store" renamed it to "Domino's".
1965 : A sandwich shop was opened by Frederick DeLuca of Bridgeport, Connecticut which would later become "Subway" with more than 24,000 locations around the world.
1967 : McDonald's opens its first restaurant abroad.
1971 : Opened the first Starbucks store ever in Seattle, Washington.
1977 : The first Chuck E. Cheese's opened, called "Chuck E. Cheese's Pizza Time Theater", in San Jose, California.
1980 : PETA (People for the Ethical Treatment of Animals) founded. They often attack fast food chains, claiming that they treat animals badly before and during slaughter.
1993 : Max Shondor, natural food restaurateur from Florida, started selling soy-based Boca Burgers.
2002 : McDonald's starts lowering the amount of trans fat by 48% in french fries.
2006 : Arby's follows the McDonald's and also starts eliminating trans fat oils in french fries.